When we think of a challenge coin, we automatically think of a standard round shape…but such coins can be minted in shapes that are limited only by your imagination. Take for example, the example here made and designed by Lt. Jesse W. Johnson, USAF. using a basic circle, Lt. Johnson incorporated a silhouette of a B-1 bomber to overlap and protrude off the edges, making a not-so-often-seen type of coin.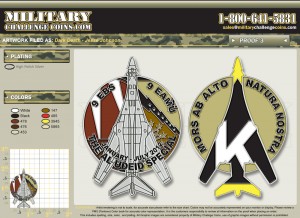 Using cutouts and dual plating, Msgt. Amado Azua created a series of coins for his unit. We see dual plating (silver and gold on the same coin) frequently, but its use on the outer edge of the design make it really stand out. An oblique line edge is cut into the outer portion of the high polished gold for a distinguished look.


Creative use of camouflage has been poplar as of late also with military unit coins, and this mock-up from the Wounded Warrior Regiment is no exception. Different shapes, creative graphics, and specialized coloring patterns really make this one sought after.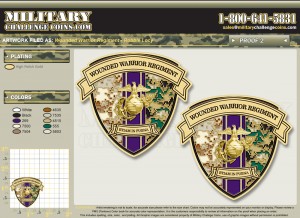 What can we design for your unit? We take your ideas and transform them into striking military challenge coins. Call us at 1-800-641-5831 or use our website to send us your request today.